My name is Melissa, I'am multidisciplinary artist from Tijuana, Mex. This project arises from a desire to combine my artistic production with traditional artisanal techniques. I am specifically interested in establishing relationships that expand and activate creative fields and work methods based on tradition, local knowledge, and the intersection of personal and collaborative work.

For M.A I create unique pieces that are handmade alongside artisans who specialize in different ancestral processes. I hope this project can be a bridge to the native communities of Mexico, helping to preserve craftsmanship and create both opportunity and income using fair and horizontal manufacturing practices. I am also interested in capacitations of new artisans in order to share and strengthen local practices and knowledge.

I currently live in Mexico City where I also dedicate myself to cultural management focused on education, inclusion and digital culture. I am a photographer and workshop facilitator in experimental drawing and image.
My dear collaborators, friends and excellents artisans:
Lucrecia is my Zapotec teacher and a real expert in the art of weaving, as well as all her relatives and ancestors. Lu is also my partner in crime in the handloom, she helps me to do all kind of experiments without hesitation. She is interested in not losing the tradition of working with wool and enjoys cooking for others. She is also Manuel's wife.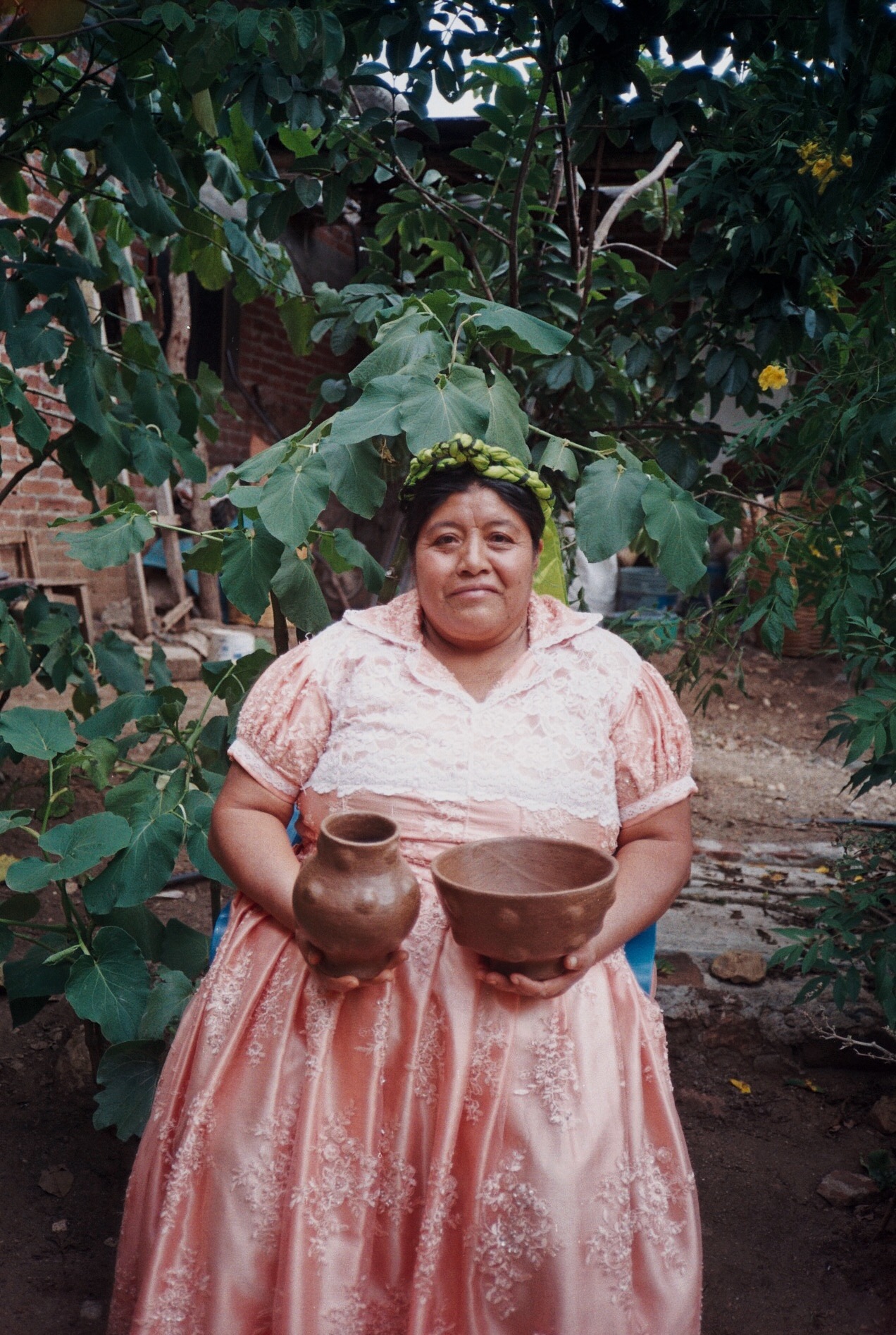 María loves receiving visits at her house, where she lives with her husband, a dog, four bulls and many chickens. We became friends very easily. She enjoys working the red clay, making jokes, reading the bible and talking on the phone.
María is always willing to work new ideas and she likes it when I make plastic totems in her garden.
Juana joined our team because she likes to clean the wool. Her mom is Cristina and her favorite food are tamales. She's 40 years old and even thouhg she's a bit shy, her laughs are very strong when she hears me learing zapotec... And I really like that.
Maria has two daughters and she loves weaving in traditional handlooms. In her community there are only a few weavers who dedicate 100% to the practice and she's one of them. I really admirer her tenacity and that she always accomplish her goals.
Irene is Irma's mother, she has known how to work with clay since she was little. Her house is in front of a mountain, she likes to wear purple and has two dogs and two bulls. Every morning Irene wakes up early to go to the mill and feed the family. I like to see her carrying with great balance, big corn bags on her head. She's also María's sister.
Manuel, who has a great ability for large scale drawing, is also a music lover and Lucrecia's husband. I met him at a market and we quickly sympathized. He wants everyone to know what artisans do in the world of weaving. He likes technology, YouTube and with the income of this project he will finish building his house.
Quintiliano, better known as Quinti is a master dedicated to the trade of stone and marble. Job that has been able to teach how it works to his two daughters, who help him carry out the pieces. He's very quite and calm.
Paulina is Lucrecia's niece. Her house is full of flowers and she has a dog and a cow.
Her job at M.A requires a lot of patience, observation of details and time. She does the last cleaning, which consists of removing by hand, with tweezers and small scissors, any piece of straw or grass left in the wool.

Irma also known as Mima, is Irene's daughter. She is 25 years old, she likes to dance, seeing her friends at the market and molding clay on small scale. As many young people in her community she is interested in moving to Mexico City to find a job. Mima is always laughing and she just started dance lessons with Rufina's son.




Cristina is the oldest woman on the team, in which she works seasonally. She focus on braiding, cleaning and refining details once the piece is lowered from the loom. Cris likes to eat cake and she's always accompanied by her two daughters.
Rufina has two kids and many animals. She likes to work with clay because it relaxes her, she is always open to work different figures that are not common in the labor or the red clay women. We enjoy making face cups together but the best thing es when we do very funny deformed things.





Guadalupe is one of Manuel's sisters. We don't speak much (yet), bause I'm still learning zapotec, but something I find very sweet, is that when it comes to cake, we understand each other perfectly! She elaborates the fringes of the rugs, once they're clean and her favorite food is the famous "amarillo", a Oaxacan cuisine recipe.
Alma is one of Quinti's daughters. She's always in a good mood and without her help it would be imposible to estructure and organice the marble and stone ideas. She always laughs when I ask Quinti to let me take him pictures.